Tilt Hopper Containers: 1- 4 Yards Available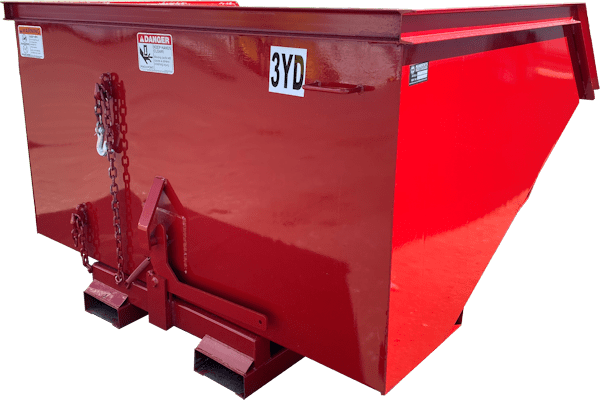 Back, Front, Bottom & Sides Constructed of Heavy-Duty 10 Gauge Steel
Top Rail Reinforced by 3″ Channel
Full-Length Fork Tubes Provides Added Stability During Transportation and Dumping
Spring Release Locking Handle Keeps Hopper Secure in the Back Position
Safety Restraint Chain Secures the Hopper to the Fork Truck
Base Constructed of 7 Gauge Pockets and 4″ x 3″ x 3/16″ Tubing 2 Heavy Duty Dumping Hinges
Welded Solid Inside for Maximum Durability
Primer on the Inside and a Paint on the Outside Protects and Gives the Container an Attractive Finish
6″ Roller Bearing Swivel Casters with Grease Fittings (450 lb. Capacity Each)
10 Gauge Caster Plates with Flange for Strength
Hambicki's Self-Dumping Tilt Hopper dumps when pressure is applied to front of the hopper and the locking mechanism is released. Hopper returns to an upright and locked position after it dumps when pressure is applied to the front of the hopper.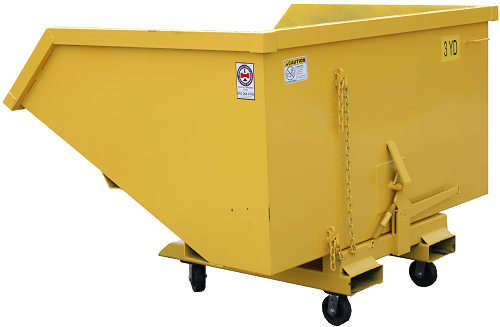 How many 3 yard tilt hoppers will fit on a full truck? 12
Hambicki's services all major brands in the business.  Buying new just doesn't make sense for everyone.  Why not get the same value and pay less.  Hambicki's can keep your used equipment working, so you can continue doing what you do best, running your business.

2630 W. Broadway Rd.
Phoenix, AZ 85041
Toll Free: 1-800-552-2648
Local: 602-268-8708
Fax: 602-276-4552
E-Mail: sales@hambickitrucks.com