Recycler Roll-Off Containers: 20-40 Yards Available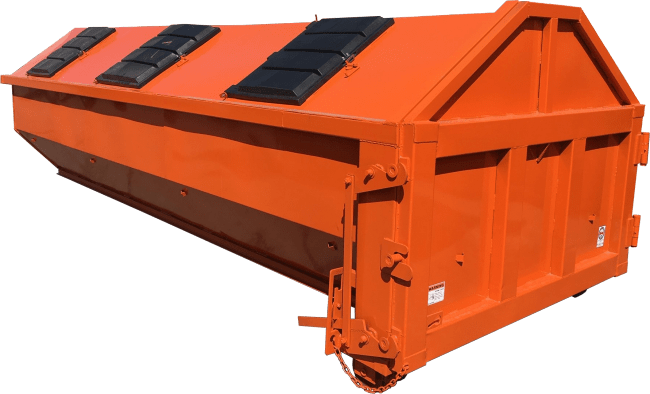 10 Gauge Floor Reinforced by 3″ Structural Channels on 18″ Centers
10 Gauge Side Walls Reinforced by 4″ x 4″ x 3/16″ Tubing Top Rails
Designed for Standard Roll-Off Hoists Utilizing Two Longitudinal Guide Rails (6″ x 2″ x 3/16″ Tubing)
Welded Solid for Maximum Durability
Primer on the Inside and a Paint on the Outside Protects and Gives the Container an Attractive Finish
Hook Hoist
Double or Single Doors
This container is mostly used for recycling but has been used for solid waste applications. It can be made with internal dividers for keeping material separated in thier own compartments. The lid is low for easy access. You can choose between plastic or lockable steel lids. The entire container can be made water-tight for keeping liquids contained.
How many 3 yard tilt hoppers will fit on a full truck? 12
Hambicki's services all major brands in the business.  Buying new just doesn't make sense for everyone.  Why not get the same value and pay less.  Hambicki's can keep your used equipment working, so you can continue doing what you do best, running your business.

2630 W. Broadway Rd.
Phoenix, AZ 85041
Toll Free: 1-800-552-2648
Local: 602-268-8708
Fax: 602-276-4552
E-Mail: sales@hambickitrucks.com