Receiver Roll Off Containers: 20 – 40 Yards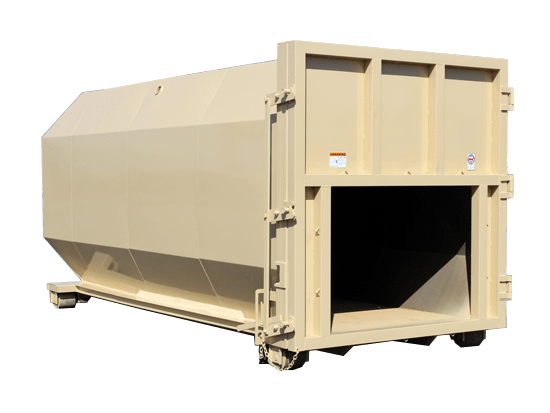 Standard Specifications: 40 Yard
10 Gauge Floor Reinforced by 3″ Structural Channels on 18″ Centers
10 Gauge Steel Cover
Designed for Standard Roll-Off Hoists Utilizing Two Longitudinal Guide Rails (6″ x 2″ x 3/16″ Tubing)
Single Rear Doors Have Heavy-Duty Hinges with Zerk Fittings Designed to Carry Door Weight
Heavy-Duty Locking Hooks for Keeping Doors Locked During Loading
Heavy-Duty 8″ x 8″ Front and Rear Ground Rollers
Exterior (Including Bottom) Painted Your Choice of Color (Some Colors May Be Extra)
10 Gauge Side Walls Reinforced by 4″ x 4″ 3/16″ Tubing Rails
Interior Coated with Industrial Enamel Epoxy Coding
This Compactor Receiver box has an octagon design with a "narrow nose," which promotes maximum compaction density and payload from your compactor. You can haul more trash with fewer trips. Perfect for use with stationary waste compactors, these packer/receiver boxes are often specified for the demanding requirements of high volume waste applications such as industrial sites and waste transfer facilities.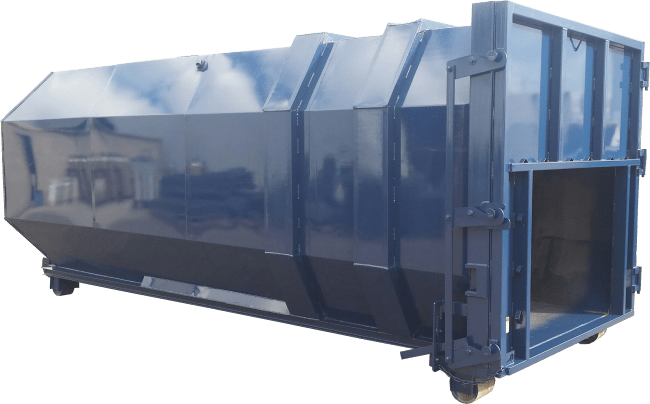 How many 40 Yards will fit on a full truck? 2
Hambicki's services all major brands in the business.  Buying new just doesn't make sense for everyone.  Why not get the same value and pay less.  Hambicki's can keep your used equipment working, so you can continue doing what you do best, running your business.

2630 W. Broadway Rd.
Phoenix, AZ 85041
Toll Free: 1-800-552-2648
Local: 602-268-8708
Fax: 602-276-4552
E-Mail: sales@hambickitrucks.com